RAIN GARDENS HAVE PLENTY OF BENEFITS, BUT THERE ARE IMPORTANT TREE CARE TECHNIQUES TO KEEP IN MIND
Rain Gardens are a popular choice among creative gardeners and are encouraged for water management within a property. They also benefit native species plantings that help pollinators thrive. In the right place, they can be an asset to a property and contribute to clean water and healthy soil. But before you make any changes to your landscape, we ask that you first consider your trees and how a change will affect them. You will see lots of information on installing rain gardens at every garden show, in magazines and blogs, and even the city of Madison and Wisconsin DNR provides free information on how to plant a rain garden. But one thing this information often misses is how this can affect your trees. The benefits of a large mature tree to air and water quality are far greater than any rain garden could ever produce, yet we have seen rain gardens affect the health of our trees, sometimes even to the eventual decline of a tree.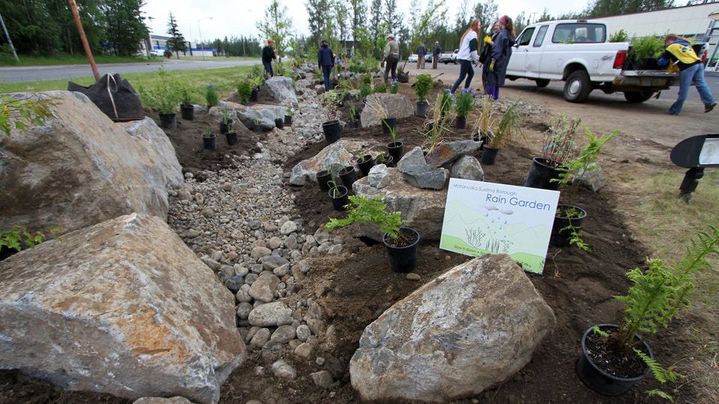 RAIN GARDENS IMPACT THE SITE CONDITIONS OF TREES, WHICH AFFECTS HOW YOUR TREES WILL GROW
Trees acclimate to site conditions over time and rely on the stability of those conditions to remain healthy. If drastic changes occur to the critical root zone, the tree must then spend its energy to adapt to that change. If the change is significant, the tree may show signs of stress and decline such as branch dieback, leaf dieback, reduction in leaf size and color, root function may diminish, and rot can take hold due to over saturation and lack of oxygen in the root zone. An established mature tree may take decades to exhibit decline due to an affected root zone.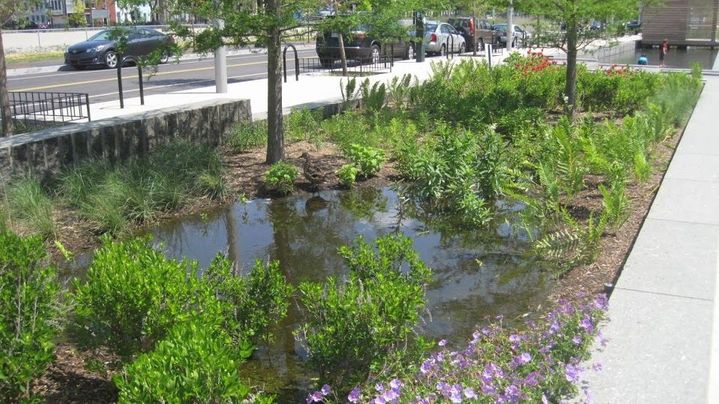 KEEP THE CRITICAL ROOT ZONE OF YOUR TREE IN MIND WHEN INSTALLING A RAIN GARDEN
A rain garden is built in a depressed area, sometimes being dug into the yard 8" or more. When this is done within a tree's critical root zone, the roots are cutaway, damaged or otherwise affected by changing moisture levels. Upland tree species are particularly poorly suited for this extra moisture but even wetland tree species can be affected by moisture shifts; the change can be too abrupt for the tree. The speed at which trees react seems slow to us humans, a disturbance to its environment can take 1-5 years or longer to show, and the challenge for many homeowners is connecting the changes that have been made with the tree's life.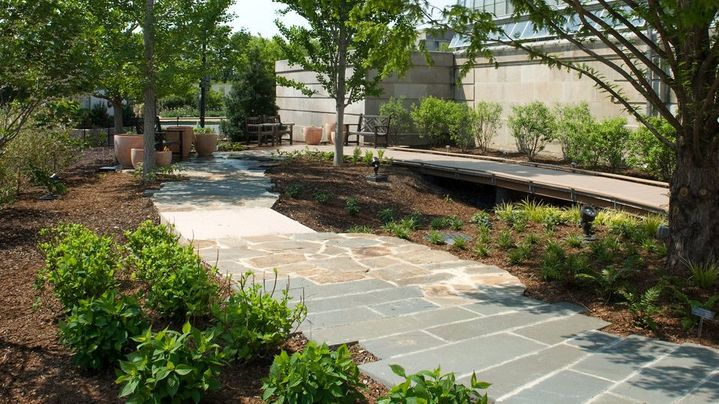 FINAL THOUGHTS ABOUT RAIN GARDENS AND HOW BUGG TREE CARE Can HELP SETUP AND/OR ADVISE
Consider planting the rain garden completely out of the Critical Root Zone. This can be found generally by following the very smallest branches to the tips, and then imagining the water dripping straight down from those points in the crown. If you do plan a rain garden, follow some of these tips, and if you're unsure about the tree, please have a certified Arborist from BUGG TREE CARE consult. We are happy to advise.